Welcome to Medical Hall Pharmasave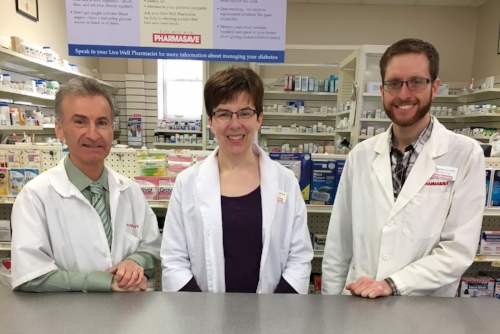 Established in 1898, we take personal interest in your medications, your health & well-being. You will experience excellent service every time you visit our pharmacy.
We take the time to know our customers; most we know on a first name basis. We will fill your prescription promptly, so you can get on with your day. When you call, we answer the phone; we do not have an automated voice system.
Feel free to contact us anytime for information on your prescription or nonprescription medications or other health concerns. We are here to help you.
Order your prescription online with our convenient Online Refill Service at Pharmasave. To keep you well at home, we can service many of your home health care needs. Our friendly staff can special order products for you. Plus, get AIR MILES reward miles on your qualifying purchases.
Transferring your prescription to our pharmacy is very simple & quick.
We are wheelchair accessible & have ample convenient parking.
Service - Convenience - Value - Trust - Community Focused
You get it all at Medical Hall Pharmasave. We look forward to helping you Live Well.
By providing your email address, you are consenting to receive email messages from Medical Hall Pharmasave. You can unsubscribe at any time. Please see our Privacy Policy.
Our store is located at 233 Foord Street, Stellarton, Nova Scotia
Just 1.25km south of TCH 104 Exit 24, Foord St / Route 374