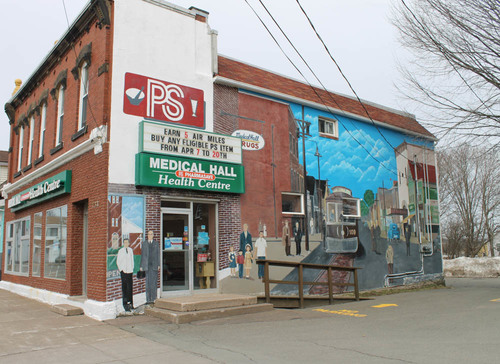 Medical Hall Pharmasave has been serving Stellarton and surrounding areas since 1898. It is owned and operated by pharmacist Kevin MacKay who has been a pharmacist for over 30 years.
In 1997, we became part of the Pharmasave family. With over 500 stores, Pharmasave is one of the leading independent pharmacies in Canada. Each store is individually owned which allow us to serve our customers and community to the fullest.


We carry a complete line of prescription and nonprescription medicines. In addition we stock a large selection of high quality Pharmasave house brand products at very competitive prices. Plus, we reward your purchases with our Pharmasave Brand Loyalty Card and the AIR MILES Program.


At Medical Hall Pharmasave, it pays to shop.
Our store is located at 233 Foord Street, Stellarton, Nova Scotia
Just 1.25km south of TCH 104 exit 24, Foord St / Route 374
Call us at: (902) 752-5192
Our Staff
Kevin MacKay: Pharmacist Owner
Laura Rowan: Pharmacist
Graham Stewart: Pharmacist
Patsy Turnbull: Front Store Manager
Debbie Hirtle: Pharmacy Assistant
Jeannie Sampson: Pharmacy Assistant & Front Store
Wendy MacKay: Pharmacy Assistant & Front Store